As a leading Android app development company, developing feature-packed, high performing, custom android applications for businesses is expertise. PlusInfosys creates critically involved business android applications. These apps are developed for our customers' user engagement, which work on every device that has Android OS. We also bring expandible app solutions to various business verticals with our high impact, result-driven, engaging Android apps. Our Android app development services are proficient at implementing any complexity and business logic within the app with user-friendly UI/UX designs. PlusInfosys is considered as the most well-grounded Android app development company which aims to improve your experience with providing a user-friendly, appealing app for your service.
Our company has dedicated Android application developers who are experts having experience in successfully creating some amazing yet complex apps with great ease, appealing designs and innovative functionalities, quoted by our clients. We already have catered to various industries like education, retail, manufacturing, consumer apps, fintech and telecom provinces, as well. We have created creative codes for wearables, tablets and smartphones. The service includes activities starting from initial development which is primarily conceptual, analysing UI/UX design to programming then to testing, even hosting it on Google play store is our goal to help our clientele.
Android Application Development Services
Consultation regarding Android mobile app development: We have been providing the full loop Android App Development services that include relevant consultation and create an imagination into a real-time app. Starting from consulting, analysing the business needs and discovering the work, to developing a minimum viable product, PlusInfosys gives it all!
Prototyping, Wireframes & Mock-up: We design wireframes and present options to you. The coding cycle begins once you select from the shortlisted wireframe designs.
Backend Engineering: Our experts are experienced to develop a secure backend solution, implementing third-party API integrations. Along with that taking care of the evolving business needs is another perk. Our experts take care of the scalability as well.
Quality Coding & Debugging: We follow the latest agile development methods for high-quality coding cycle along with software testing which is highly professional for bug-free & fast release in the market.
Team augmentation: We advise you to let your people working in your firm pick from our many pools of resources and content yourself to manage your needs and concerns to avail our team through regular meetings.
AI & ML Capabilities in Android: We hold experience to add creative intelligence to Android apps with integration of AI & ML technologies. This is done using ML mobile SDK KIT.
Third-party API Integration: We provide methods for integrating third-party APIs with Android applications allowing other programs to access the data pretty easily than others.
Cloud Development & Integration: We help businesses via developed apps and existing systems through expert cloud development and integration, with our teams.
App Upgrade: We offer a contract, that is to upgrade your apps that ensure full compatibility with the latest OS version & features.
Testing and maintenance: We take care of the product, with the post release worries by helping you with bug fixing and testing on updates, performance tuning, system monitoring and managing on-demand-updates, to enhance overall performance of your system.
Strategy to develop Android app:
Client projects are always on priority. Be it about, consulting us for the very first time or thinking of reviving your ongoing app, our team of Android app developers will spend the required time and details on your project that it needs. We suggest strategies and recommendations, after understanding your business processes then brainstorming ideas, along with architectural and infrastructural concerns concerned with your business.
Starting from upgrading an existing project to planning to develop an interface for a brand-new app or even thinking, we provide you a design that targets your key indicators and hitting the correct targets in terms of usability, look, appeal and a friendly experience.
After having a great experience in Agile development environment, we have also understood the importance of providing frequent updates and needful concerns to the client. We deeply understand in continuous update, delivery, deployment of code, and testing on a regular basis.
We work along with client requirements only, we integrate the project and customised Custom API applications like payment gateways,YouTube or Instagram, for carrying out most favourable outcomes like secure payments and data sources for numerous other applications.
Testing can also be called as Quality assurance. It is a critical step that our teams take care of, while the development cycle of the project and with that we also put in efforts for post-development, ensuring that all types of needs are fulfilled and functional functionality along with non-functional functionality testing, performed during development.
Furthermore, our Android experts will help your way through choosing the solution of enterprising with the app store.
Lastly, We also offer post deployment services, as we understand the concept of optimisation that is required on regular intervals. Updating better versions, with innovative ideas, and evolving in the market with the updates is also a necessity.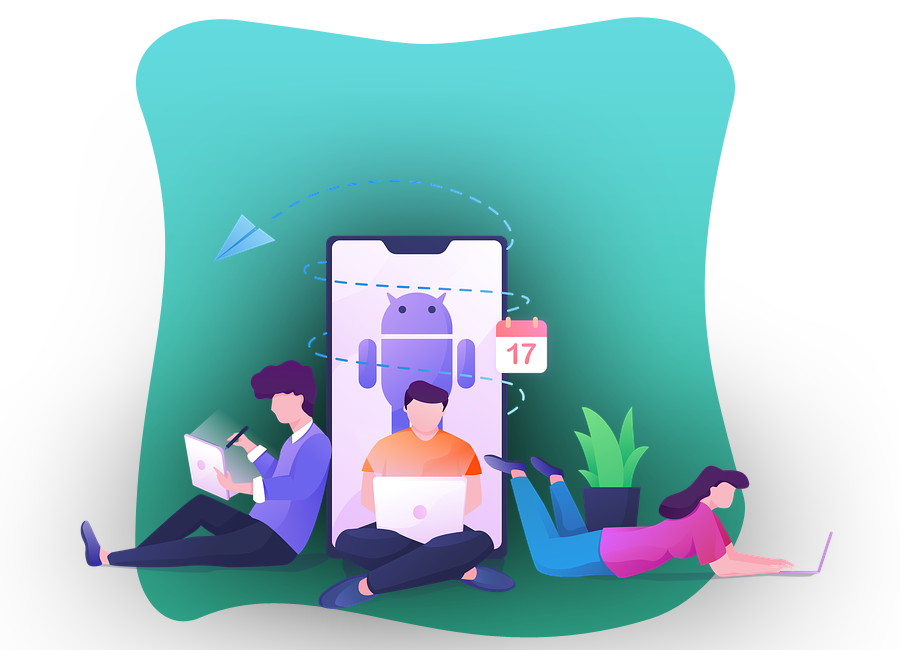 PlusInfosys broad range of high-performing and scalable Android apps with powerful UI/UX which make a complex solution look simpler to the end-user.
Custom Android applications
Augmented Reality apps
Android Mobile, TV and watch applications
Social networking app that enables instant messaging, video, voice.
Android Widget Development
Enterprise application with deployment
Mobile ERP, POS and M-commerce
Custom Android library/Framework development
BLE (Bluetooth Low Energy) / beacon-enabled Android applications
SaaS based application development
Ready to build your Web or Mobile App?
Book your FREE call with our technical team or email info@plusinfosys.com